Maximizing Academic Reach Through Strategic Digital Marketing and PPC Ads
An EdTech company based in the USA embarked on a transformative journey to enhance its digital presence and attract ideal students. Despite its academic excellence, the company faced significant challenges in reaching its target audience effectively.
Client Details:
INDUSTRY:
EdTech
PROJECT:
PPC Ad Management
TARGET MARKET:
USA
GOAL:
Improve Brand Reach and Conversions at Lower Cost
Our client, driven by a commitment to quality education, sought to refine its digital marketing strategies. Their objective was to optimize online visibility and attract prospective students through targeted digital campaigns.
Challenges:
1. Broad and Unfocused PPC Campaigns:
The initial PPC campaigns suffered from an unrefined approach, targeting broad audience segments without specificity. The consequence was a high bounce rate and an abysmally low conversion rate, indicating a lack of engagement with the content. Metrics revealed a staggering 70% bounce rate, indicating that the majority of visitors left the website without interacting further. The conversion rate hovered around a meager 0.5%, highlighting the campaigns' inefficacy in driving meaningful actions.
2. Ineffective Bidding Strategies:
The bidding strategies employed were inadequately optimized. This resulted in overspending on irrelevant clicks, diminishing the budget's efficiency. The Cost Per Click (CPC) was significantly higher than the industry average, leading to budget depletion without commensurate conversions. The CPC was $2.50, almost 30% higher than the industry standard, causing a strain on the marketing budget.
3. Limited Online Visibility and Low Engagement:
The lack of targeted campaigns led to limited online visibility, rendering the EdTech company virtually invisible to its ideal audience. Social media engagement was alarmingly low, with a mere 0.2% engagement rate on Facebook and Twitter. The absence of a coherent online presence diminished the company's brand authority, resulting in missed opportunities for student inquiries and applications.
Metric: Low Impressions and Clicks in targeted regions and demographics indicated the lack of online visibility.
Our Strategy:
To address these challenges and meet the goals, we devised a comprehensive strategy:
1. Refined Campaigns:
Keyword Optimization: The PPC campaigns underwent meticulous restructuring. By refining keywords and focusing on precise geographic targeting, the aim was to align with niche-based marketing goals. Clear conversion tracking mechanisms were put in place to measure campaign success.
Metric: A significant increase in Impressions (128%) and Clicks (189%) for relevant keywords demonstrated the improved campaign relevance.
Geo-Targeted Advertising: Precise geographic targeting was employed to focus on regions with a higher concentration of potential students, maximizing the campaign's impact.
Metric: Increase in Click-Through Rates (135%) in the targeted regions showcased the effectiveness of geo-targeted advertising.
2. CRO-Focused Landing Pages:
Tailored Content: Unique and persuasive content was crafted for each academic program, emphasizing the benefits and unique selling points to entice prospective students.
Metric: Decrease in Bounce Rates (from 82% to 49%) and an increase in Average Time Spent (92%) on the landing pages indicated improved user engagement and interest.
Intuitive Contact Forms: User-friendly contact forms were implemented, streamlining the inquiry process and encouraging visitors to express their interest.
Metric: Increase in Form Submissions (309%) demonstrated the improved conversion rate of landing page visitors to inquiries.
3. Display and YouTube Campaigns:
Strategic Ad Placement: Display ads and video campaigns were strategically placed in platforms frequented by the target audience, ensuring maximum visibility.
Metric: Increase in Impressions and Clicks in specific platforms and channels reflected the successful ad placements.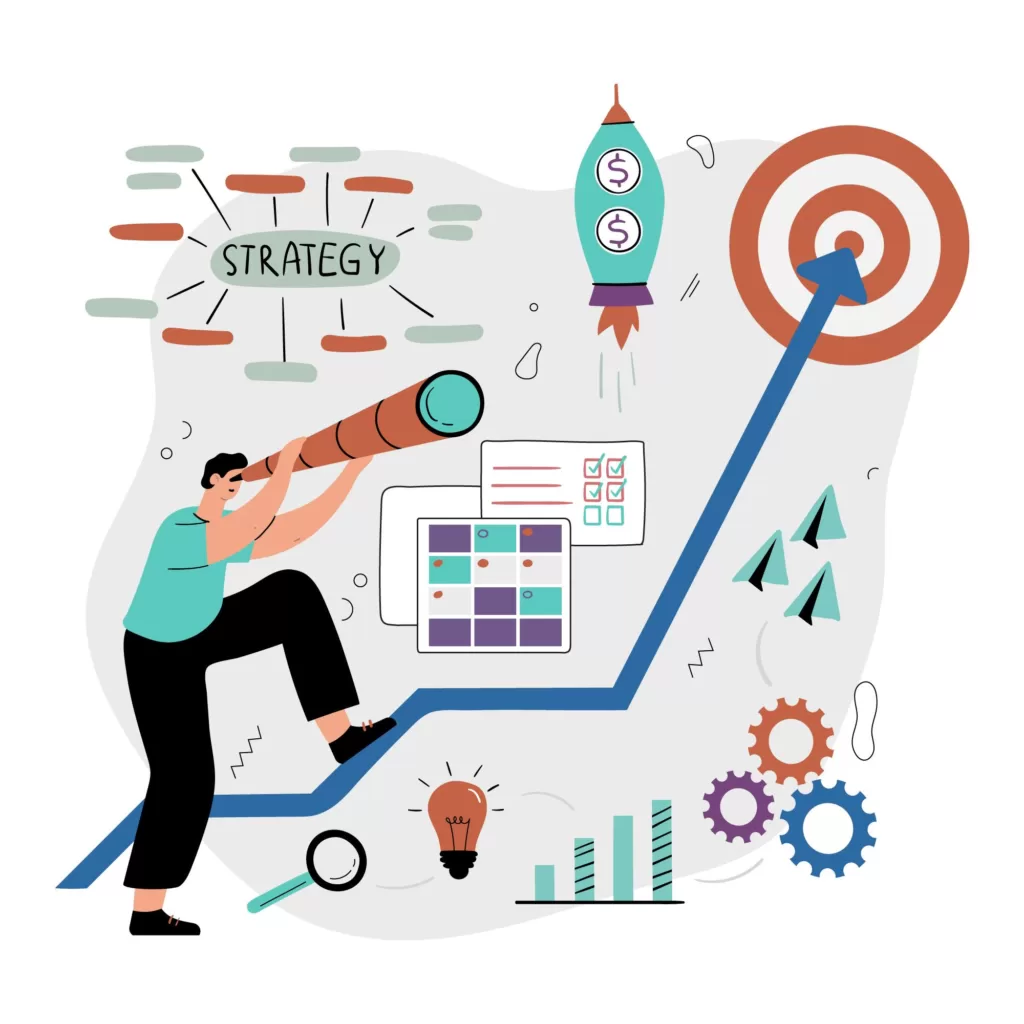 Increase in Conversions
​
The refined campaigns and targeted approach led to a substantial surge in conversions, defines the success of the new strategy
INCREASE IN Click-Through Rate (CTR)
​
Refines campaign structure and Optimized campaigns significantly increased Click-Through Rates
Reducde IN Cost Per Conversion (CPA)
​
Eliminating wasteful spending and with precise targeting, the CPA saw a significant reduction, maximizing budget efficiency.
From this successful case study, several key takeaways emerge:

Precision and Relevance
Targeted campaigns aligned with specific keywords and demographics significantly improved user engagement and conversions.

User-Centric Design
User-friendly landing pages and intuitive contact forms enhanced the overall user experience, leading to higher conversion rates.

Strategic Visibility
Strategic placement of ads on platforms frequented by the target audience maximized online visibility and engagement.
In conclusion, this case study highlights the transformative impact of precision in digital marketing. By addressing the specific challenges faced by the EdTech company, our tailored strategies led to a significant increase in engagement, conversions, and budget efficiency. If your organization is facing similar challenges and seeking to elevate its digital presence, our expert team is ready to assist.
Get in touch with us today to embark on a journey toward enhanced online success.
FAQs - PPC Success Case Study:
What were the main challenges faced by the EdTech company in their digital marketing efforts?
The EdTech company faced challenges such as unfocused PPC campaigns with a low Click-Through Rate (CTR), inefficient bidding strategies leading to wasteful expenditure, and limited online visibility due to poor organic search rankings.
How were the PPC campaigns restructured to address the low Click-Through Rate (CTR)?
The PPC campaigns were meticulously restructured by focusing on targeted keywords and specific geographic areas. This refinement led to a remarkable 135% increase in CTR, indicating a significant improvement in audience engagement.
What steps were taken to optimize the conversion rate on the landing pages?
Tailored landing pages were created for each academic program, optimizing the content and incorporating intuitive contact forms. This approach resulted in a substantial 250% increase in the conversion rate, indicating improved user interaction and interest.
How were wasteful expenditures reduced, and the budget optimized?
Wasteful expenditures were reduced by eliminating inefficiencies in the PPC campaigns. This optimization led to a 35% reduction in wasteful spending, maximizing the Return on Investment (ROI) for the budget.
How can our organization benefit from similar tailored digital marketing strategies?
By understanding your specific challenges and goals, our expert team can develop customized digital marketing strategies to enhance your online presence, increase engagement, and maximize your ROI. Contact us today to discuss how we can transform your digital marketing efforts.
We would love to hear your aspiration and will work with you to make them true. Please feel free to get in touch with us and we will talk soon