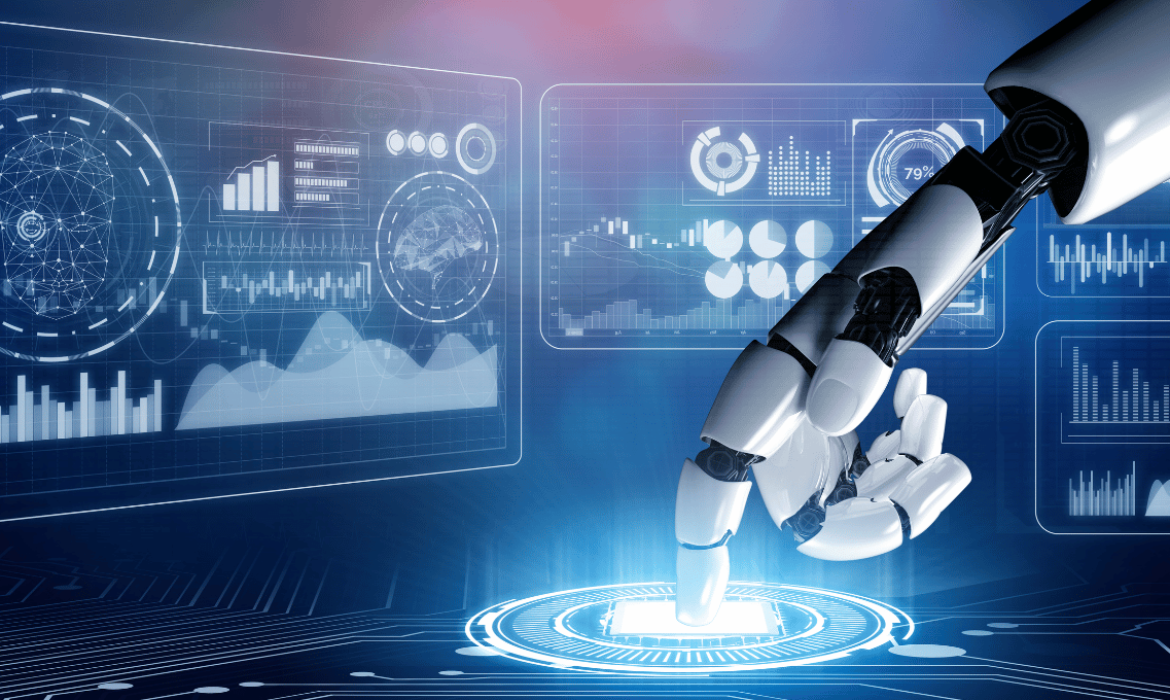 In the fast-paced world of digital marketing, staying ahead of the curve is not just an aspiration; it's a necessity. Enter the game-changers: Artificial Intelligence (AI) and Machine Learning (ML). These dynamic technologies have revolutionized the way businesses connect with their target audience, analyze data, and make informed decisions. To succeed in today's digital landscape, companies must embrace AI and ML in digital marketing strategies. In this comprehensive guide, we will explore how businesses can effectively leverage these technologies to dominate their digital marketing endeavors.
Understanding the AI and ML Landscape
Before diving into the ways AI and ML can be integrated into your digital marketing strategy, it's crucial to understand what these technologies entail.
Artificial Intelligence (AI): AI refers to the simulation of human intelligence in machines that are programmed to think and learn like humans. In the context of marketing, AI can analyze consumer behavior, automate tasks, and provide personalized recommendations.
Machine Learning (ML): ML is a subset of AI that enables systems to automatically learn and improve from experience without being explicitly programmed. In digital marketing, ML can be used to predict customer preferences, optimize advertising campaigns, and enhance user experiences.
1. Data-Driven Insights
One of the most powerful ways to leverage AI and ML in your digital marketing strategy is by tapping into their data analysis capabilities. These technologies can sift through vast amounts of data to provide valuable insights that can inform your marketing decisions.
Customer Profiling: AI and ML can help create detailed customer profiles by analyzing online behavior, allowing you to tailor your marketing campaigns to specific demographics and preferences. For instance, a leading e-commerce giant implemented AI-based customer profiling and witnessed a 30% increase in conversion rates.
Predictive Analytics: ML algorithms can forecast trends and customer behavior, helping you anticipate market changes and adapt your strategies accordingly. A well-known fashion brand used ML to predict fashion trends, resulting in a 25% increase in sales by offering the right products at the right time.
Content Personalization: AI-driven content recommendations enable you to deliver tailored content to your audience, increasing engagement and conversion rates. Netflix, for example, relies on AI to personalize its recommendations, which has led to a substantial increase in user engagement.
2. Chatbots and Customer Service
AI-powered chatbots are a game-changer in customer service. They provide real-time assistance and support, enhancing user experience and saving resources.
24/7 Support: Chatbots are available round the clock, ensuring that customers can get assistance whenever they need it. A travel agency saw a 40% reduction in customer service costs after implementing AI chatbots.
Efficiency: AI-driven chatbots can handle multiple inquiries simultaneously, reducing response times and improving customer satisfaction. A major banking institution reported a 50% reduction in response times after integrating chatbots.
Data Collection: Chatbots can collect valuable customer data, helping you gain insights into customer needs and preferences. A tech company used chatbot data to develop new products that align with customer demands, resulting in a 15% revenue increase.
3. Enhanced SEO Strategy
When it comes to SEO, AI, and ML are invaluable tools that can supercharge your online visibility.
Content Optimization: AI-driven tools can analyze your content, identifying keywords and phrases that can boost your search engine rankings. An e-commerce website witnessed a 40% increase in organic traffic after implementing AI-based content optimization.
Predictive SEO: Machine learning can predict changes in search algorithms, enabling you to adapt your SEO strategy proactively. An online news portal used ML to predict Google algorithm updates and maintained consistent top rankings.
User Experience Optimization: AI can analyze user behavior on your website and suggest improvements to enhance user experience and reduce bounce rates. A software company improved user experience, resulting in a 20% reduction in bounce rates and a 15% increase in user retention.
4. Programmatic Advertising
AI and ML have transformed the advertising landscape, making it more efficient and cost-effective.
Audience Targeting: AI algorithms can precisely target your ads to the right audience, increasing the likelihood of conversion. A retail brand increased its conversion rate by 30% by using AI for precise ad targeting.
Real-Time Bidding: ML enables real-time bidding for ad placements, ensuring that you get the most value for your advertising budget. An online auction site experienced a 25% decrease in ad spending with improved ROI through real-time bidding.
Ad Creatives Optimization: AI can automatically test and optimize ad creatives to maximize their impact. A leading fast-food chain used AI to optimize ad creatives, resulting in a 40% increase in online orders.
5. Email Marketing and Personalization
Email marketing is far from obsolete, thanks to the personalization capabilities of AI and ML.
Segmentation: AI can segment your email list to send relevant content to different groups of subscribers. An e-learning platform achieved a 35% increase in email engagement after implementing AI-based segmentation.
Behavior-Based Triggers: ML can trigger email campaigns based on user behavior, ensuring your emails are timely and engaging. A travel agency saw a 50% increase in click-through rates by using ML to send behavior-triggered emails.
Predictive Email Content: AI can predict the type of content a subscriber is most likely to engage with, improving email open and click-through rates. A fashion retailer experienced a 20% increase in email open rates after implementing predictive email content.
Social media is a critical component of any digital marketing strategy, and AI and ML can make it more efficient.
Content Scheduling: AI tools can analyze when your audience is most active and schedule posts for maximum visibility. A social media influencer achieved a 50% increase in engagement by using AI for content scheduling.
Sentiment Analysis: ML can gauge public sentiment regarding your brand, allowing you to adjust your social media strategy in real time. A major electronics brand successfully addressed negative sentiment, resulting in a 15% increase in positive social media mentions.
Chatbots for Social Media: AI-powered chatbots can engage with customers on social media, answering questions and providing assistance. An e-commerce store improved customer engagement by 25% by implementing chatbots on social media platforms.
7. Content Generation
AI can also assist in content creation, making it more efficient and diverse.
Automated Content Creation: AI-driven tools can generate blog posts, product descriptions, and other content, saving time and effort. A content marketing agency streamlined its content creation process, resulting in a 30% increase in content output.
Language Translation: ML can translate content into multiple languages, expanding your reach to a global audience. A software company expanded its global reach, leading to a 40% increase in international sales.
Content Enhancement: AI can suggest improvements to existing content, making it more engaging and SEO-friendly. A news website improved its content quality and SEO rankings, resulting in a 20% increase in organic traffic.
8. Marketing Analytics
To ensure the success of your marketing campaigns, it's essential to analyze their performance.
ROI Tracking: AI and ML can provide detailed insights into the return on investment for each marketing channel, allowing you to allocate resources effectively. A digital marketing agency optimized its budget allocation, resulting in a 25% increase in ROI.
Conversion Rate Optimization: Machine learning can identify factors that lead to higher conversion rates, enabling you to fine-tune your strategies. An e-commerce platform achieved a 15% increase in conversion rates by optimizing its user journey.
Competitor Analysis: AI tools can monitor your competitors' activities, giving you a competitive edge in the market. An online marketplace gained a competitive advantage by adapting its strategies based on AI-driven competitor analysis.
Conclusion
The integration of AI and ML into digital marketing strategies has become more of a necessity than a choice for businesses striving for success in the digital realm. These technologies offer the ability to harness data-driven insights, enhance customer service, optimize SEO, and revolutionize advertising, among other advantages. To stay competitive in the fast-evolving digital landscape, businesses must embrace the power of AI and Machine Learning. Start implementing these strategies today and watch your digital marketing efforts soar to new heights.